While it's hard to fathom that the Rose era has officially ended in Chicago, it might be harder to grasp what they got in return for him. In 2011, what if I told you one day Rose would only be worth Jerian Grant, Robin Lopez, and Jose Calderon? It would have been a take so hot that even Skip Bayless would be scared to say it. However, it's 2016 — whispering voice — and the Bulls might end up winning this trade.
It's been five years and three knee surgeries since Derrick Rose became the youngest player to win an MVP. Even typing those words make it feel like it was an eternity ago. It seems like we've had many players, even some careers that have panned out since Rose was on top. Every once in a while we see glimpses from his vintage bag of tricks that made America fall in love with the totally original point guard. Rose still tries to play with that reckless abandon that makes him special, but has clearly lost a few gears from his old athleticism package. Each time he flashes his vintage self, his body crumbles to the court and forces fans to hold their breath before he gets up, again. But it's each time he gets up, each circus lay-up, and each rapid crossover that makes fans continue to cheer for this guy. Everybody wants Derrick Rose to be great, to return to that MVP caliber of player he once was. While the task is tricky, fans can't help but cheer him on as he continues to tackle adversity.
Whenever a conversation involving Derrick Rose is brought up it's almost impossible not to think about "what could have been". He's a walking "what if". Sadly, Derrick Rose can't go back in time and surgically repair his knees before they tear, or build a time machine where he finds bionic muscles from a different era on Earth to install inside of his body.
However, that doesn't mean I can't. I'm going to attempt to use the most insane parts of my imagination to write you a fantasy world where Derrick Rose never got injured. A world that exists inside my head that changes the paths of NBA teams, players, and careers to the EXTREME. A world in which Derrick Rose never gets injured. A world where he succeeds past his 2011 season the way that we all had visioned.
Note — Each season can become more and more confusing and complex. It's best to just read from top to bottom to truly understand how much Rose's health has impacted the NBA as we view it today. It's meant to be insane, but at the same time, it's sort of realistic.
Another Note — Don't take this with 100% seriousness and jump in my mentions defending, let's say, the 2012 Miami Heat. Reading is optional. This is just for fun.
2010-2011: Derrick Rose Becomes Youngest Player to Win an MVP, Loses to Miami
The 2011 NBA season was the breakout season of Derrick Rose, and his last fully healthy season. Nothing in this season changes (obviously), but it's important to note what happened to catch up on the story.
Derrick Rose in 2011 was identified as this futuristic, game-changing point guard. He was so damn athletic compared to the rest of the league that it wasn't even fair when he wore that Chicago uniform. This is the Derrick Rose that NBA fans hope will return, and YouTube fanatics are obsessed with. Rose would attack the rim with no regard for an opposing player's soul. It was amazing. He'd just shred defenders off of him like some sort of Mongolian Warrior that was defending the Mongol Empire when attacking the basket. He'd slice and dice his way to the rack for empathetic dunks and mayhem lay-up while leaving victims dragging in his tracks. He literally had a signature shoe made with all-time lightness for weight. Players such as myself would lace those up believing they'd help us become as lethal as Rose was when changing directions, but it was only a figment of our imaginations. Derrick had impacted the evolution of the guard position in ways that are still being mastered today.
Unfortunately his luck would run short as a determined, newly assembled Miami Heat project would beat the Bulls in 5 games. For those that don't remember that series it went something like: Chicago dominating Miami in Game 1, but at some point during Game 2 LeBron James took over the series. This was the game where Dwyane Wade officially handed the keys to the car over to LeBron. And just like that, Derrick Rose's fantastic season — his largest accomplishment — was over as he watched the Dallas Mavericks go on and beat the Miami Heat in an upset.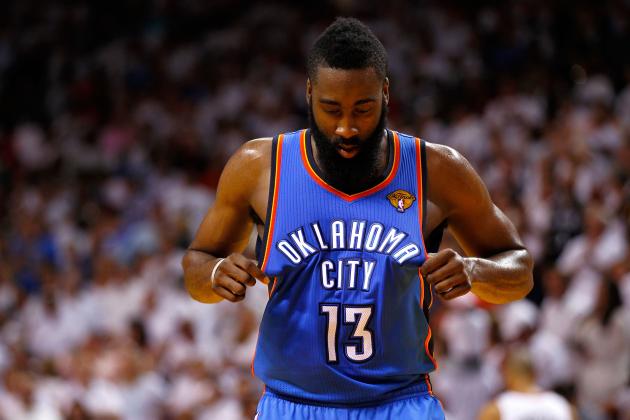 2011-2012: ACL Doesn't Tear, Bulls Run Table, Harden, Pat Riley Ejects, Offseason Explosion
It was late in the game (1:22 4th quarter) when Derrick Rose came to a jump stop against the Philadelphia 76ers and tore his ACL (the first time). As he rolled around in pain, the season was left hanging in the balance.
When the news broke that Chicago's superstar was ruled out for the rest of the playoffs, it was over. Everything they had waited for was now done. The Philadelphia 76ers went on to win the series (4-2) and then lose in seven games to the Boston Celtics. It took the Miami Heat seven games, and the greatest creation of LeBron's career during Game 6 to knock off the Celtics. They moved on to destroy the young Oklahoma City Thunder in the Finals.
After watching the Celtics struggle against the 76ers, and the Heat struggle against the Boston Celtics, a lot of viewers questioned what would have happened if they'd drawn a healthy, improved version of the Chicago Bulls from the year before.
People forget that the Chicago Bulls were 32-7 that season when Derrick Rose played. They absolutely had a chance to beat the Miami Heat. They were much improved from the season before. And in this wild fantasy of mine, they did.
Instead of going through surgery and physical therapy, Derrick Rose is dragging his Bulls to the Finals to beat the Oklahoma City Thunder, instead of LeBron gracing his first championship. Rose was better, his Bulls were improved, and one of the top coaches in the NBA had an entire season to figure out a plan to get past the Miami Heat. It was clear that whoever won the Eastern Conference was going to win the Finals that season considering how much stronger that conference was as a whole.
As Derrick Rose is seen on ESPN carrying around his NBA Finals MVP trophy celebrating, this is how the rest of the league shakes out that offseason:
Since Philadelphia likely gets swept in the first round instead of beating Chicago, they blow up their team a year early to enter the Anthony Davis sweepstakes. They would've received Golden State's pick for trading Andre Iguodala and some other pieces for the Warrior's 7th overall pick. The Warriors were in need of a small forward — the reason they originally took Harrison Barnes — so there is no reason to believe they wouldn't have taken Iguodala for a first round pick.
This is what the first 10 picks would look like after that trade:
1. New Orleans — Anthony Davis
2. Charlotte — Michael Kidd-Gilchrest
3. Washington — Bradley Beal
4. Cleveland — Dion Waiters
5. Sacramento — Thomas Robinson
6. Portland — Damian Lillard
7. Philadelphia — Andre Drummond*
8. Toronto — Harrison Barnes*
9. Detroit — Austin Rivers*
10. New Orleans — Jeremy Lamb*
(* = Different)
Jeremy Lamb was originally drafted by Houston and became a huge factor to why OKC was feeling optimistic about dealing away James Harden. However, considering Lamb is now a member of the New Orleans Hornets, the Houston Rockets can't trade for James Harden because they don't have enough assets that entertain Daryl Morey. What would likely happen next is Sam Presti resigning Harden for the max contract and paying the luxury tax on his deal like he should have done in the first place.
Since it's about to be year three in the Miami "Big Three" era and they have yet to win a championship, Pat Riley becomes irritated because he's a man of winning and little patience. In reality, Chris Bosh played a huge role down the stretch of their back-to-back championships, but he was often the scapegoat as well. Considering Riley is insanely competitive, and a basketball Don, he would then spin a trade centered around Chris Bosh with Orlando for (at the time) the best center in the NBA, Dwight Howard. That's right. LeBron James, Dwyane Wade, and Dwight Howard. A newly improved big three that is effective immediately.
No Los Angeles for Dwight… no Kobe-Dwight fueds… no Harden in Houston… no Harden-Howard fueds… No championships for Chris Bosh… no rebuild for Orlando because they have Bosh… Andre Drummond in Philadelphia could potentially change the eventual reasoning behind selecting Nerlens Noel, Joel Embiid, Jahlil Okafor, and Ben Simmons… Is Joel Embiid on the Magic right now because Philadelphia selected Dante Exum instead? Is Okafor on the Knicks? Is Ben Simmons/Brandon Ingram a member of the Celtics? All realistic questions that could be traced back to Derrick Rose tearing the ligaments in his knee.
2012-2013: Rose Looks to Defend, LeBron's Career in Jeopardy, OKC Looks Insane, Duncan Falls?
The 2013 season would have arguably had the most anticipation of all-time. So many unanswered questions that would need to have an ending. Will LeBron finally win a championship? Are the Thunder for real already? Can Derrick Rose lead the Bulls to back-to-back titles? Is Rose going to be an all-time great? Is Tim Duncan done? Where will the Spurs go from here? Can Chris Paul make the Conference Finals? Does Charles Barkley really have to be an analyst?
As you'd expect, Chicago, Miami, OKC, San Antonio, LA Clippers, etc. would cruise through the regular season. LeBron James would soar through the regular season with his legacy on the line. He easily wins the league MVP (as he actually did) and positions the Miami Heat with the first overall seed in a season that's all-or-nothing for the King's career. He looks as good as we've ever seen anybody play the game of basketball as he's frothing from the mouth for a championship.
The core of Kevin Durant, Russell Westbrook, James Harden, and Serge Ibaka position the Oklahoma City Thunder for the top seed in the Western Conference as they're hungry to get back to the Finals and win their first championship with an insanely young core before the chatter grows more than it has at this point. They're looked at as a team that will likely win handfuls of rings as long as they can get their first one while they're all still together.
During the summer, Derrick Rose refined parts of his game that he never got an opportunity to polish because he was rehabbing his knee. He's become hands down the top guard in the NBA and hopes to push his team back to the Finals for a chance to repeat as champions. Rose battles LeBron for the MVP, again, but ultimately can't obtain it. Regardless, Rose is a bona-fide top three player in the entire league at this point. His canniness launches Chicago to the second seed in the Eastern Conference, but more importantly on the same side of the bracket as Indiana.
Since the Chicago Bulls are one of the top teams, they've positioned themselves to play the three seeded Indiana Pacers in the semifinals. As a result, the Heat and Pacers don't have that half-ass rivalry that happened for three straight seasons.
Without reaching the Eastern Conference Finals, Paul George isn't able to take that last step to reach the elite level in the NBA. He used the 2013 ECF as a trampoline to propel him into the talks of one of the best players in the NBA. Without that series, he's just another All-Star in this league until he gets an opportunity to play in a big game. Most importantly, George would have never exorcised the demons clean out of Birdman's body:
Once the playoffs are reached, Chicago ultimately doesn't have enough on their roster to compete with Miami's insane talent of LeBron, Wade, and Howard. They fall in 5, or 6 games in the Eastern Conference Finals as they watch LeBron go back to the NBA Finals.
Oklahoma City throttles the Western Conference and it isn't even close. They trounce whoever the pathetic 8th seed is (not Houston), dominate the Clippers because they'd expose their inability to defend anything on the perimeter (not to mention Durant, Harden, and Westbrook), and they blow through San Antonio with their athleticism* to force a match between LeBron and Kevin Durant.
Ultimately, it's unrealistic to go through this and not have LeBron win one title so I do believe they could have beaten this Thunder team as this was a better version of their best Miami team during his stint down there. Only this time, the series isn't remembered for Ray Allen.
Note* — One of the biggest reasons for San Antonio going to back-to-back Finals in 2013 and 2014 is that James Harden was traded to the Rockets. He gave San Antonio so many problems with his offensive versatility and ability to facilitate.
Wade and LeBron's ability to defend Harden and Durant is the reason they win this series. They show why they're two of the best to play the game as Miami's outstanding defensive team gives Dwight Howard something to finally smile about.
When LeBron lifted the Larry O'Brien over his head for the first time, here is what's different:
Chris Bosh isn't pouring champagne over his face in a way that makes parents cover their children's eyes… Howard isn't counted on to save Kobe's career… Duncan and the Spurs don't reach the Finals so they don't have one of the most epic collapses in elimination game history… Ray Allen never hit "The Shot"… The Pacers never became a thing that flirted with contention… Paul George isn't in the national discussion, yet.
2013-2014: OKC Wins Title, Jimmy Butler rises, Miami is Plagued by Dwight, LeBron Stays in Miami
Throughout last season and into the summer, Jimmy Butler becomes a lockdown defending glue-guy. He's not able to fully develop and polish his offensive game like he did in that 2013 season with Nate Robinson, but he's the defending guard next to the dynamic Derrick Rose. There is definite potential for Rose and Butler to grow together into the best backcourt in the NBA.
At some point and time, every team that Dwight Howard has played on is eventually plagued by his injuries, lack of concentration, free throws, or just a general bad mojo he casts out over his team's season. Apparently, he's just cursed. He's already got his championship ring in this fantasy, so what would motivate him to change his bad habits if he has already been rewarded his ultimate dream?
However, Miami wouldn't be cursed until they reached the playoffs. Miami would prove to be too much for Chicago or any other Eastern Conference team for the third time in four years, only because LeBron James is in his prime. Even a healthy Derrick Rose and Jimmy Butler weren't going to slow down the LeBron-Wade-Howard train after only one season.
Outside of the lingering contenders (Chicago, Indiana) there isn't much hope for anybody else in the Eastern Conference as they're watching the power shift back West and will wait their turn.
After failing two straight years in the NBA Finals, OKC would finally prevail as they'd end their streak of bad luck by winning the championship. See, Sam Presti?? James Harden was worth the money! Lucky for Kevin Durant he won a championship before his Thunder became a remix of the 90's Buffalo Bills.
Kevin Durant was just silly in 2014 and remained the same throughout the playoffs. But the problem with the real 2014 Thunder was that they ran into Kawhi Leonard. Remember? It was during the Spurs F.U. tour when they were proving to the rest of the league that Tim Duncan was an alien that never showed age on the basketball court? Well, Leonard was on a mission to showcase that he was the best perimeter defender since Scottie Pippen.
If James Harden is on that roster, the Thunder break down the Spurs' defense since Leonard can only remove one of the two stars from that series. With Westbrook and another one of their creators, they're nearly impossible to beat because of their athleticism advantage and overall star talent compared to the Spurs.
OKC would defeat LeBron and his Heat, similar to how the Spurs did in 2014. Kevin Durant would out play LeBron in that series and win the Finals MVP that he's long-awaited. Not because he's a better player than LeBron, but because, once again, LeBron's teammates will have let him down from playing too many minutes. Dwight Howard and Dwyane Wade would have been exhausted from going back to the Finals. LeBron just had too much on his plate during that 2014 season, regardless of who his teammates could've, would've, or should've been. He would've looked ridiculous as he ran around the court trying to stop the OKC fast break trifecta (Westbrook, Harden, Durant).
Kevin Durant finally takes the throne of the NBA for at least a summer as he now has a Finals MVP next to his regular season MVP from the same year.
Spurs don't get their revenge title… Kobe Bryant's career is viewed more successful than Duncan's by the general public because Duncan never caught up to his five rings… Kawhi Leonard doesn't enter the national spotlight for anything more than a great defender… Leonard wouldn't be compared to Pippen… Duncan and Ginobili have no reason to play anymore so their retirement sends San Antonio into a small rebuild while Duncan escapes to a cave at the bottom of the Philippines…
I don't think LeBron goes home to Cleveland after a loss in the Finals because he doesn't want to just keep running away from losing teams. He wants to prove he can win another championship with one team. Well, and among other reasons…
When Philadelphia decided to blow it up after their 2012 season, they were a year ahead on the tank schedule. Cleveland doesn't win the Andrew Wiggins lottery in 2014 because all the odds have changed. With Andrew Wiggins going to another team, Cleveland can't make the under-the-table Kevin Love trade with Minnesota that baited LeBron to come back to Cleveland. Why would LeBron James leave Dwyane Wade and Dwight Howard to go play with Kyrie Irving and Dion Waiters? Instead LeBron hopes to fix Dwight Howard and chase more free agents to help improve the overall makeup of the Miami Heat.
Carmelo Anthony signs with Chicago because they offer him not only max money, but the most legitimate chance of his career to win a championship. A healthy Derrick Rose, developed Jimmy Butler, and motivated Carmelo Anthony spend their summer together hoping to win a championship in 2015.


2014-2015: Bulls are Reloaded with Carmelo, Miami is Miami, Warriors don't make Jump, OKC remains Western Conference Powerhouse, Cleveland Dies.
Yes, Carmelo Anthony would have signed with the Chicago Bulls. There isn't a guy with more pressure on him to win a championship at this point and the Bulls would offer a perfect opportunity for Carmelo Anthony. This made sense while Rose was injured (likely the reason he didn't sign with Chi-Town), but now there's no reason for him to stay in New York since Rose would be healthy and a proven champion at this point. Carmelo Anthony, healthy MVP-esque Derrick Rose, Jimmy Butler, and Pau Gasol would easily be the most talented roster in the Eastern Conference. They'd have a great chance at defeating anybody who stood in their path, with the hopes of winning the second championship during Rose's era in Chicago.
With the addition of Carmelo Anthony, the Chicago Bulls were a force once again. Rose and Butler had improved to the top backcourt in the NBA while adding one of the best scorers in the world. Anthony gave the Bulls somebody who could go at LeBron and get the buckets throughout a game and series. These teams would battle in the regular season, only to tease what an epic Conference Finals series they were going to display.
Chris Bosh would have become a free agent and potentially could have returned to where he started, Toronto. Bosh would have brought veteran leadership and All-Star basketball to a team that already had Kyle Lowry and DeMar DeRozan. Toronto fans were getting their own version of the "Big Three". The Raptors would also have Harrison Barnes considering he fell to them after the 2012 redraft.
Golden State wouldn't be able to make the jump they did in 2015 because Harrison Barnes would be playing for the Toronto Raptors — thanks to Philadelphia for trading Iguodala a year early. Starting Andre Iguodala the whole season doesn't crush the idea of what the Golden State Warriors would become, but now you're talking about switching the starting lineup, moving the 6th man/Finals MVP of a team to the starting lineup. It might not seem like it, but it'd make a gigantic difference with how detail oriented that team is. Steph Curry is still a transcendent shooter, but not the league's MVP.
Golden State had a lot of luck during their run towards a championship, but nothing was bigger than dodging the OKC Thunder as they didn't make the playoffs in large part to Kevin Durant injuring his foot. However, with James Harden on the roster for the years leading up to this moment, it would have taken a lot of minutes and pressure off of Durant's joints to at the least postpone his foot injury 1-2 more seasons. In my opinion, there isn't a chance in hell that the Warriors would have defeated the Thunder in 2014-15 if they also had James Harden on their roster. No disrespect, it's just not happening.
The Cleveland Cavaliers would continue to be a mediocre franchise that's holding onto the idea of their hometown hero returning to the land someday. Kyrie Irving isn't an All-Star caliber point guard without LeBron James. Dan Gilbert looks like a failure as he has drafted Kyrie Irving, Dion Waiters, Tristan Thompson, and Anthony Bennett to play together. However, there is an alternate universe where Cleveland places somewhere else in the 2014 Lottery and an argument can be made that they flip Joel Embiid, or Julius Randle for Kevin Love. In my opinion, I don't think the Wolves would have done this. And of course, there is the universe where they just win the Wiggins sweepstakes and hang on to him as it's clear LeBron needs to prove he can win multiple championships in Miami before Cleveland breaks out the "Welcome Home" signs.
LeBron James is sitting up high in a Miami penthouse with his good friend Dwyane Wade, pondering how they own a combined three NBA championships. As he and Wade are discussing their season/careers, they begin to anticipate the Chicago Bulls coming back for them.
Once the Eastern Conference Finals arrived, you could feel how locked in these teams were. Derrick Rose and his Bulls wouldn't be eliminated by this team for the third season in a row. Rose, Butler, Anthony, and the rest of Chicago would finally give LeBron a taste of that great rivalry that he hadn't understood since the Boston Celtics early on in his career. As they knocked down the King, they'd do the same to the Thunder who were traveling to their 4th straight NBA Finals.
The Chicago Bulls looked like a dynasty in the making and had hoped to repeat in 2015-16.
The Warriors don't take over the NBA… Stephen Curry isn't the league's MVP… Andrew Wiggins never goes to Minnesota… Love leaves in free agency and the Timberwolves receive nothing in return… LeBron still only has one ring… Spurs are irrelevant… Kyrie Irving struggles to keep the fans of Cleveland optimistic… Thunder still own the Western Conference… Carmelo's entire legacy shifts… Derrick Rose is a 2X champion/Finals MVP… Thibodeau doesn't get fired…
2015-16: LeBron comes home, Rose/Carmelo attempt to stop Golden State, Warriors eclipse history

Now, the amazing thing to me about sports is how they always seem to find their way back into relation to history. As LeBron decides to come home, his team isn't nowhere near as talented as it was when he actually came back in 2015. As a result, he isn't able to elevate himself past the Chicago Bulls, let alone the Golden State Warriors. While a single decision of LeBron's can influence his career, so can an injury to an opposing player (to an extent).
The Chicago Bulls would be looking for their third NBA championship during the Derrick Rose era. However, the Golden State Warriors would have figured themselves out and likely had the 73-9 season that they just showcased. Seasons like that don't just happen by accident. They would have found a player to fill in for Barnes and been the same due to elite coaching, efficiency, and ingenuity.
Oklahoma City would have easily been the top threat in the Western Conference, but just for the sake of "what if's", they lose to the 73-9 Golden State Warriors. In my opinion, they don't beat Curry and his squad after 4 straight trips to the NBA Finals.
LeBron proved that the only way you could (barely) beat this all-time team was by having one of the two greatest players of all-time turn into a lunatic during a seven game series. As good as they could have been, I don't believe Derrick Rose, Jimmy Butler, or Carmelo Anthony would have been good enough to defeat the three ball bombing, life threatening defensive team that the Golden State Warriors had become.
The 2016 NBA offseason would have resumed where it left off from the Warriors 2014 celebration.
For those who have seen their favorite team win an NBA championship, they understand how much luck goes into even one title. Luck is one of the ingredients to winning in the NBA. You need a few superstar players, coaching, luck, and good timing.
One season you can have the best young player emerging to the top of the NBA, and the next moment he can be laying on the court with an injury while your entire franchise is hanging on a thread. Life goes quick in the NBA, but from my experience it's the things that you can't control that usually impact your team more than anything else.